Ferguson, MO, HVAC Company. Weis provides licensed heating and repair service to Ferguson business and home owners. We specialize in air filtration, AC repair, heaters and boilers, and other HVAC services. Weis carries the best brands and products on the market. We are here to answer your call 24 hours a day, 7 days a week or schedule an HVAC tune-up. Weis is your go-to Ferguson, MO, HVAC solution.
Weis Comfort Systems' top-notch Ferguson HVAC services are here to help you maintain efficient and well-maintained heating and cooling systems. Weis has served Ferguson homeowners for upwards of 8 decades and continue to offer premiere HVAC repair, maintenance, and installation. We offer rebates and coupons, financing, maintenance plans, and other HVAC services in Ferguson. See Weis' HVAC reviews to learn more about our success.
Dedicated Ferguson HVAC Services
When winter comes around and your heater goes out, you may regret not having a full HVAC maintenance check. We're an HVAC company dedicated to helping customers prevent heating and cooling issues and maintain an efficient system. Keeping your Ferguson HVAC in good condition lowers power bills and makes sure that your home is warm when it's cold and cool in the summer.
We're more than an HVAC service. Since 1974, we've offered Ferguson customers with expceptional and proven service. When you contact Weis, only expect the best. Let us prove it with our customer reviews.
Ferguson Heating Repair and Installation
Furnace Installation and Repair in Ferguson is crucial for homeowners. Weis' factory-certified techs are prepared for 24/7 heating service. Weis Heating and Cooling can give you free repair or installation quote today. Just visit our service request page or give Weis a call for additional information.
Weis Comfort Systems looks at thermostat settings, electrical connections, the condensate drain, and other components of your furnace to ensure they run properly and keep you and your family warm during the colder months. A well-maintained heater or furnace can save you hundreds of dollars. After all, you wouldn't want your heater to go out when it's snowing and cold outside.
Weis services a variety of products and brands, including Lennox, Daikin, Aprilaire, Arzel, WaterFurnace, and more.
Boiler Repair and Installation in Ferguson, MO
For Ferguson homeowners and residents, a malfunctioning boiler can be catastrophic. Older homes in Ferguson might rely on boilers as the main source of heat. The expert boiler repair and installation technicians in Ferguson at Weis Comfort Systems can help. We provide competitive financing to ensure your home is efficient and safe. Feel free to get a quote for HVAC repair in Ferguson, MO, now.
Ferguson AC Installation and Repair
Need air conditioning installation in Ferguson? Has your AC gone out? The licensed and certified AC techs at Weis Comfort Systems offer Ferguson homeowners with top-notch air conditioning maintenance and installation. Our Ferguson AC contractors are here 24/7 for emergency repair and installation. Weis utilizes cutting edge technology and you can expect the best when it comes to air conditioning repair and installation. We offer seasonal and affordable service to Ferguson business and home owners.
Emergency HVAC Service
Weis Comfort Systems has served the Greater St. Louis area for more than 80 years. We service and install ALL makes and models of furnaces, air conditioners, and HVAC equipment. We also offer available same-day service to get your furnace or air conditioner running ASAP.
Please view our current specials for 2018 and details about our company by watching our latest video.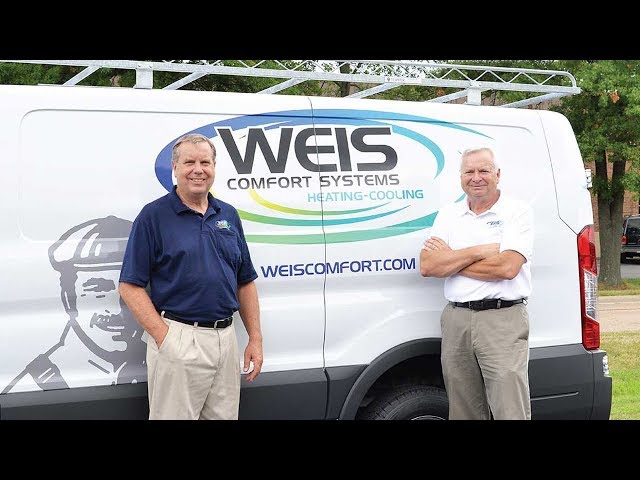 HVAC Service Near You
Our preventative HVAC maintenance plans help Ferguson customers and homeowners keep their heating and cooling systems in proper working order. There are a lot of things you can do to make sure your HVAC systems runs smoothly. Some of these include:
Clean your air conditioning coils and evaporators.
Checking your central air's refrigerant level.
Adjusting blower components to improve airflow.
Checking gas or oil pressure, connections, burner combustion, and heat exchange.
Updating your thermostats.
Lubricate parts and tighten all electrical connections.
Inspect the condensate drains for your heat pump, furnace, and AC units.
Signing up for a maintenance plan can save you hundreds per year. We're dedicated to keeping your HVAC system maintained to ensure safety and efficiency.
Weis also believes in the health and safety of your Ferguson home. We offer a broad range of products to ensure your family is safe. This includes products like dust and air filters, filtration units, and carbon monoxide detectors. We also have short- and long-term financing options to help Ferguson residents with HVAC service. Get in touch with Weis for more info about financing options.
We pride ourselves on the following values:
Offering dedicated service since 1974 to Ferguson homeowners with HVAC quality service.
Allowing customers to pay via cash, checks, or with our flexible financing options.
Servicing and installing the best technology in the industry and products. This includes brands like Daikin, Lennox, Water Furnace, Arzel, and others.
Guaranteed headache-free HVAC maintenance for Ferguson customers. We're committed to solving your HVAC issues quick and efficiently.
We also provide suggestions and advice to homeowners to avoid future HVAC problems.
A dedication to heating and cooling safety.
Contact Your Ferguson HVAC Pros Now
When you need HVAC repair or installation in Ferguson, MO, please request service today. Weis provides free quotes, too, and is dedicated to keeping your HVAC systems in optimal condition. Let us know how our Ferguson HVAC techs can help.
Serving St Louis and Illinois for over 80 Years
Richard Weis returned from WWII asked for the keys from his dad and re-opened the shop as Weis Heating Company. He had a process and a plan to economically install central heating in all new homes with the new blower-driven gas furnaces. The housing boom that followed the war allowed the company to expand rapidly.
Nearly 80 years later, the current Weis generation continues the tradition of providing a quality, affordable HVAC service for our customers. At Weis, "When you live and sleep comfortably, so do we."